Summary of Abrasion vs. Scratch Study
While there has been considerable investigation on the image stability (fade and yellowing) of digitally printed materials, there has been significantly less evaluation of their physical integrity. This is surprising given that an IPI survey of libraries, archives, and museums showed that abrasion and scratch were the number one reported form of damage to digital prints in cultural heritage collections.
The research reported here was focused on investigating the scratch sensitivity of digital prints and comparing those results to a previous study on their sensitivity to abrasion. Scratch occurs when a pointed object of very low surface area, such as the tip of a pin, moves across the print surface creating a gouge. Abrasion occurs when a flat object of relatively large surface area is moved across the surface of the print such as one print on top of another in a stack.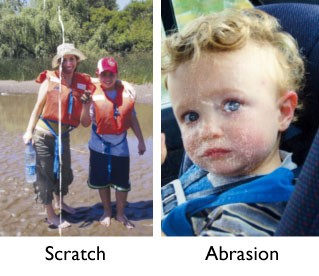 Review of the Aesthetics, Craft, and Care of the Fine Art Digital Print Workshop

This past August 23-26, IPI held its first Aesthetics, Craft, and Care of the Fine Art Digital Print Workshop at our lab in Rochester, NY. Eight participants from North and South America, Europe and Asia attended this lecture and hands-on workshop. They explored the unique aesthetics of the fine art digital print and developed a better appreciation for the distinguishing characteristics of these objects. This collaborative workshop was taught by Ryan Boatright, a contemporary artist and master printmaker, Caroline Barcella, a photograph conservator with expertise in the care of digital prints, along with several experts from the IPI staff.
Discussion of the history and various applications of digital printing technologies were followed by live demonstrations of the fine art inkjet printing process. Topics here included basic color management theory and the use of various tools and software currently available for monitor and printer calibration. An extended set of print samples illustrated the consequences of different software settings as well as common image workflow mistakes.

Inkjet Printed Books at Graph Expo

Graph Expo held last September was a showcase for the commercial digital print industry with attendees coming from more than 80 countries. The products shown at this event are not the desktop and office printers but the large format and digital presses found in commercial printing shops. The electrophotographic digital presses have been around for over a decade and excel in the short run (even single copy) and variable data production runs. Inkjet presses, however, are now gaining traction in the market. The inkjet devices appear to be intended as a step between the electrophotographic press and offset. They are web fed, so they need longer runs than the electrophotographic presses to be economical.