Preventing Cracking of Digital Photographs
It has long been known that the gelatin layers on traditional photos can crack at low humidity, but no study has been done to determine if the image layers on digital print materials are sensitive as well. There have been reports from the field that some digital prints can crack when flexed even at moderate humidity. It has even been possible to hear the cracking if the paper was flexed enough. IPI tested a variety of digital print materials including inkjet, electrophotographic and dye sublimation with the ISO brittleness test and compared them to traditional photographic materials to determine if digital prints need any additional, special care during handling. This test uses decreasing diameters of bend to determine the radius of flex at which the materials begin to crack.
At moderate humidity (50% RH) only one digital print type was more sensitive to cracking than traditional photographic material. This was inkjet on resin-coated (RC) porous-type papers (see Figure 1). These papers use a mineral-based ink-receiver coating on top of a traditional photo RC paper base. At low humidity (15% RH) inkjet polymer-type (also known as swellable) papers also cracked. Polymer papers are similar to the porous type papers except instead of having a mineral coating they have a polymer coating that swells and absorbs the ink on contact. This inherent sensitivity of the coating to moisture makes it susceptible to cracking at low humidity.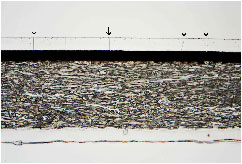 Figure 1. Cracking of the ink-receiver layer of a RC porous-type inkjet photo
Another effect was buckling of papers. This was similar to cracking, except that the paper also folded. In some cases this resulted in the ink-receiver layer tearing as well (see Figure 2). This usually happened to the inkjet prints on fine art paper. The difference between which prints cracked and which buckled is the type of paper used. Those that cracked were on RC base and those that buckled were on paper only. Buckling of inkjet prints, however, is less likely to occur than cracking of traditional photos.

Figure 2. Buckling of inkjet photo on fine art paper
Despite the fact that some digital prints are slightly more prone to cracking, IPI feels that no special considerations need be given to digital prints above and beyond those used for potentially fragile traditional photographs. A secondary support (such as a mat board) should be always used to hold the object as opposed to handling it directly. This will place any bending force on the mat and not the print.
For more in-depth information on IPI's research into digital print cracking, click here to see our article in IS&T NIP 25.


Upcoming Events

PMA 2010

If you are attending PMA this February 21-23, please stop by and visit IPI at booth 1152.

For more information on PMA, click here.

Preservation and Conservation Issues in Digital Printing and Digital Photography

IPI will be giving three presentations at the 4th International Conference on Preservation and Conservation Issues in Digital Printing and Digital Photography this May 27-28 in London, England:
International Standards Activity on Testing the Stability of Digital Prints
Effects of Ozone on the Various Digital Print Technologies: Photographs and Documents
Selecting Suitable Enclosures for Digitally Printed Materials
Information on attending this conference can be found by clicking here.