Can Traditional and Digitally Printed Photographs be Stored Together?
Or will they need to be kept separate in individual sleeves or boxes? In general, there are two types of interactions that can occur between prints stored directly in contact with each other: physical and/or chemical. Physical interactions include blocking (bonding between prints), ferrotyping (alterations to surface gloss of prints), color transfer, and abrasion. IPI's research has found that digitally printed photos are much more resistant to blocking and ferrotyping than traditional photographs. To be on the safe side, it is recommended that photographs be stored face-to-back or in separate enclosures and never face-to-face or in contact with framing glass. Color transfer could be an issue for prints exposed to high humidity. IPI's studies on humidity-induced color bleed are still underway, but preliminary results suggest that it should not be an issue for those maintaining proper storage conditions.
Abrasion is a potentially serious problem for pigment inkjet photographs, as the pigment colorants can sometimes be smeared from the dark areas of the image into the light areas with only light rubbing. It is best to store these prints in plastic sleeves (and not paper envelopes as they may be too abrasive) to prevent adjacent objects, including the backs of other prints, from rubbing against the print surface. While other types of digital photos, such as dye inkjet and dye sublimation, are not prone to smearing, they are susceptible to surface scratches that can affect the print's gloss. Again, to prevent scratching, separate enclosures for each photograph can be used. For all types of digital photos besides pigment inkjet, either paper or plastic enclosures are acceptable.
IPI's research also found that digital prints pose little risk of chemical interaction with traditional photos. The exceptions were one pigment inkjet ink set and one fine art paper typically used with pigment inkjet printers. This reinforces the recommendation to store pigment inkjet prints in plastic enclosures to isolate them from other prints. All other digitally printed photographs should be safe for storage with traditional photos.

Martin Jürgens Receives the HP Image Permanence Award

The 2010 HP Image Permanence Award for outstanding contributions that advance the preservation of digitally printed photographic and fine art images is being presented to Martin Jürgens "for his outstanding efforts as a teacher and advocate for the preservation of digital prints." Specifically, this award recognizes Martin's accomplishment as the first photograph conservator to specialize in digital prints, as well as the years he has spent collecting print samples and documenting their technological histories. These efforts resulted in both his digital print identification website and his indispensable book, The Digital Print: Identification and Preservation, published by Getty Conservation Institute in 2009.
The book can be purchased by clicking here.



ID Ideas – Dye Sub or Traditional Color Photo?

Dye sublimation prints are not composed of colored dots against a white background, so they are easy to separate from inkjet and electrophotographic prints. However, it can sometimes be difficult to tell the difference between a dye sublimation print and a traditional photo. Under magnification, dye sublimation prints often show pixelation or faint lines across the image created by the array of heater elements in the print head. However, these are also sometimes seen in traditional photos that were exposed using a digital printer by laser or LED. The true tell-tale sign of the dye sublimation print is the lack of image grain. Traditional photos, under magnification (and occasionally to the naked eye), appear grainy. This grain is the result of the exposed silver-halide particles being developed into an image.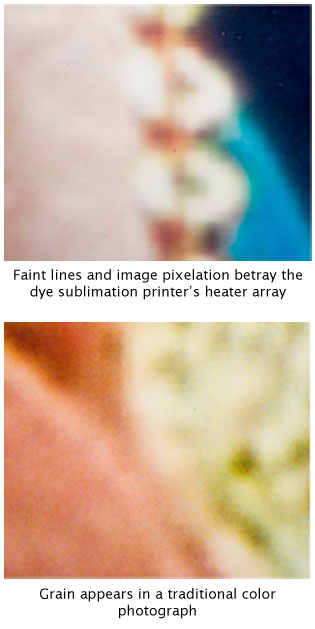 Digital Print Research at the Rochester Institute of Technology

IPI is currently in the midst of two major research projects focusing on the preservation of digitally printed materials, but there is lots of other work going on at RIT related to digital printing. You can visit the websites of RIT's various departments and laboratories related to digital printing below to find out what they are working on and what they can possibly do for you. Their areas of expertise range from art reproduction, to web-based publishing, to sustainable printing.