Call for Papers on Digital Print Permanence and Preservation

On October 2-6, 2011, the Society for Imaging Science and Technology will be holding its 27th annual Non Impact Printing conference in Minneapolis, Minnesota. This conference is dedicated to the science and technological advances of digital printing from printer design to image quality to sustainability. However, each year there is a special session dedicated completely to image permanence and preservation issues. This is a great opportunity to get your research out to the field and into the literature. Whether you are from the imaging industry, academia, or cultural heritage, you are invited to submit an abstract. Submissions are due March 6th. IPI has submitted three papers for this event. Even if you don't submit a paper, you are welcome to attend and learn more about these constantly evolving technologies and how they will impact the makeup of museum, library, and archive collections. You'll also be able to meet the researchers currently working in this field and get the expert answers to your questions. For more information on submitting and abstract or just attending, click here.



Future Directions In Digital Print Preservation Research at IPI

IPI's first two studies on the preservation of digitally printed materials are complete. Our first project, funded by The Andrew W. Mellon Foundation, focused on understanding the effects of heat, humidity, light, and pollution on these materials. Our second project, funded by the Institute of Museum and Library Services, focused on potentially harmful chemical and physical interactions between digital prints and enclosures, the risk of damage during handling, and the sensitivities of these materials to flood. Technical articles describing the experimental results can be found in the Preservation section of the DP3 Project website. However, the final results of the light, heat, nitrogen dioxide exposure, and flood work, are still awaiting publication. The final project reports to the Andrew W. Mellon Foundation and IMLS are now available on the DP3 Project website and can be found by clicking here.
This is not the end of IPI's research into the preservation of digital prints. IPI is committed to continuing our study of the preservation of digitally printed materials in cultural heritage collections. While a tremendous amount of new knowledge has been gained through IPI's first projects in this area, there is still more to learn and do. IPI has identified the following as the most important areas for future work...

Damage to Digital Prints by Adhesives

Since we began our research into the stability of digitally printed materials in cultural heritage collections in 2007, we have received several examples of adhesive-induced yellowing and bleed of digital prints from the public.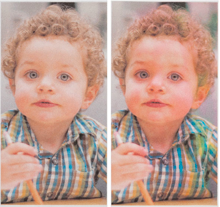 Some adhesives initiate harm directly upon application to the print...

New IPI Website

On January 15, 2011 IPI launched its new website. While still hosted at the same URL, it contains more in-depth information and is easier to navigate than our previous website. Highlights of the new website include:
Better organized content and a new menu system
Updated and improved information
An event calendar for upcoming webinars, conferences, and talks
A videos page to watch IPI-created videos
Improved online store: customers now receive updates on their order status, customers can check the tracking information for their packages, and International shipping can be calculated at the time of purchase
Note that links or bookmarks to pages on our old website may now be out of date, so please update your websites and bookmarks.
Visit: http://www.imagepermanenceinstitute.org to check it out!