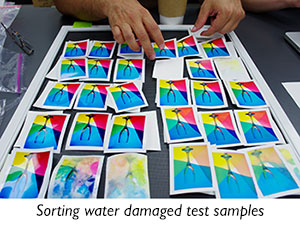 IPI's research into the effects of water emergencies on digital prints began in 2007 with our IMLS-funded DP3 Project: Digital Print Preservation Portal (Part II) - Evaluations of the Effects of Housing, Handling, and Flood on Modern Digital Prints. That project focused on a variety of key areas of concern for the preservation of digital prints in museums, libraries, and archives including selecting appropriate housing and display materials, defining the effects of handling, and important preliminary investigations to quantify the risk of damage due to water emergencies. That early work led to new water-resistance test methods that could better assess the way water can harm digital prints from colorant bleed to cockling to disintegration of surface layers. The new methodology was then employed to rank a wide variety of digital print materials found in collections in terms of their water resistance. Those results, when compared to traditional wet-processed photography, showed that the new modern prints, especially inkjet, were often dramatically more sensitive to water and that institutions desperately needed new methods for water emergency preparedness, response, and recovery.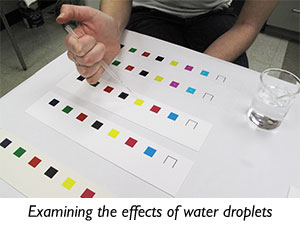 In 2013, IPI received a second IMLS grant for a follow-up project to build on the above work and further develop water emergency prevention, response, and recovery strategies for fine art inkjet prints specifically. This project addressed important questions such as: What condition will an inkjet collection be in when access to the flooded environments is granted and salvage begins?; What happens when the water is dirty or salty, and how and when prints should be rinsed?; Do different enclosure materials exacerbate problems or provide some level of protection?; and of course, How long will it take the prints to dry? These results were used to create the recommendations for water emergency preparedness and response found on this website.
In 2018, IPI received a third IMLS grant to finalize our investigations by evaluating various alternative methods for drying fine art inkjet prints that have been wetted during water emergencies (including air drying, freezing then thawing, and freeze drying). Freezing could help arrest damage in its early stages as well as allow for more controlled salvage at a later date. Freeze drying could also help minimize damage as well as eliminate the need for large spaces to air dry prints. The final step of this project was to integrate all that had been learned over these three projects into a single set of effective guidelines to help institutions prepare for and respond to these unfortunate events.

Acknowledgments
As stated above, support for IPI's research into water emergency response for inkjet prints has been provided in part by the Institute of Museum and Library Services [2]. Funding for the DP3Project.org website was provided by The Andrew W. Mellon Foundation [3].
Throughout all of these projects a variety of IPI staff, student employees, and interns contributed to the work including Ivey Barker, Jordan Briscoe, Jennifer Burger, Al Carver-Kubick, Lisa Cerra, Meghan Connor, Jae Gutierrez, Kelly Krish, Nicole Leclair, Jana Maravi, Doug Nishimura, Meredith Noyes, Lauren Parish, James Reilly, Gene Salesin, Jessica Scott, and Daniela Solera. The projects were all led by IPI senior research scientist Daniel Burge.
In addition, special advisory panels were created for each project. These all-volunteer panels were made up of known experts in the area of collections care with experience in water emergency response. Their role was to provide guidance, review and critique the work as it progressed, and evaluate the practicality, potential benefits, and drawbacks of the recommended practices based on their individual experiences and on the current standards in the field. Below are those who generously donated their time and expertise:
Andrew Robb – Senior Photograph Conservator, Library of Congress
Sarah Wagner – Senior Photograph Conservator, National Gallery of Art
Monique Fischer – Senior Photograph Conservator, Northeast Document Conservation Center
Steve Weintraub – Founder and Principal, Art Preservation Services, Inc.
Lee Ann Daffner – Andrew W. Mellon Conservator of Photographs, The Museum of Modern Art
Jessica Unger – Community Outreach and Grants Manager, DC Preservation League
Elaina Gregg– Emergency Programs Coordinator, Foundation for Advancement in Conservation
SaveSave