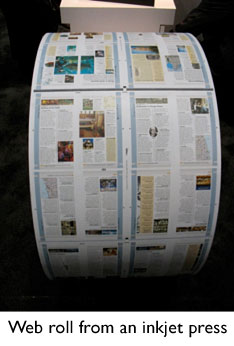 Graph Expo, which was held last September, was a showcase for the commercial digital print industry with attendees coming from more than 80 countries. The products shown at this event are not the desktop and office printers but the large format and digital presses found in commercial printing shops. The electrophotographic digital presses have been around for over a decade and excel in the short run (even single copy) and variable data production runs. Inkjet presses, however, are now gaining traction in the market. The inkjet devices appear to be intended as a step between the electrophotographic press and offset. They are web fed, so they need longer runs than the electrophotographic presses to be economical. However, they can be less expensive than offset for some print volumes because they require no make-ready time. They can also act as a variable data output for transactional printing (such as bank statements that are custom for each of a company's thousands of customers). Several books printed on inkjet systems were displayed at the show.
Below are photo-micrographs of text from books printed with offset, electrophotography and inkjet presses:
Under magnification, variation in letter density and edge sharpness are apparent, but at reading distance they appear nearly equivalent. It is not known how durable these books will be under heavy usage or how long they will last in archival storage. Manufacturers have provided little data and only one has offered to provide prints to IPI for testing (results to be released over the next two years). Still collection care professionals should begin to become aware of the new types of printed materials entering their institutions.